Cajun Thanksgiving Dinner at The Cajun Place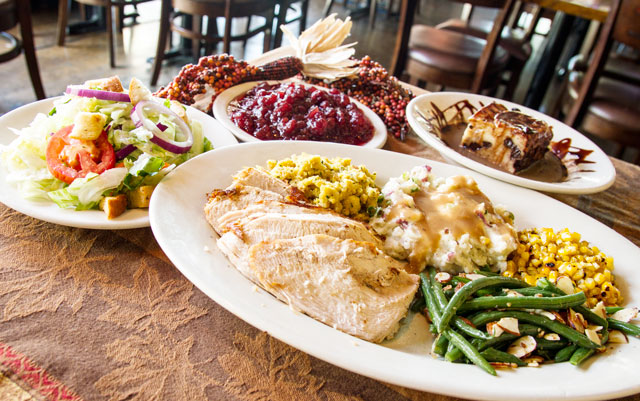 Cajun Thanksgiving Day Dinner
11am to 5pm at The Cajun Place, Allen TX
Regular menu offered 5pm to 10pm, hours of operation 11am to 2am.
Leave the stress and mess of the holidays at home and experience Cajun family dining at its best. We will have the football games on. Serving Happy Hour from 11 am to 7 pm Select appetizers available at the bar. Reservations are STRONGLY recommended. We usually sell out each year. We will not be offering our regular menu on this day until after 5 pm but you may sit at the bar for select apps. Happy Hour is served on the dining floor and at the bar.
Sold out
Adults $19.99
Kids up to age 12 $12.99 
Includes:
The Cajun Place's special Cajun Fried Turkey Breast*, sliced and served with Rosemary Mushroom Brown Gravy
Cornbread Dressing or Oyster Dressing
Green Onion and Garlic Mashed Potatoes
Green Beans Amandine
Charred Bourbon Corn
House Salad
Homemade Cranberry Sauce
French Bread
Bread Pudding for Dessert
Also enjoy $3 Mimosas
Located in The Village at Allen 190 E. Stacy Rd Allen, TX 75006 Next door to the Allen Event Center (home to the Allen Americans)
RESERVATIONS STRONGLY RECOMMENDED
Online or call 972-678-4550.
*Fried in Peanut Oil